Fort William sees super-fast broadband upgrade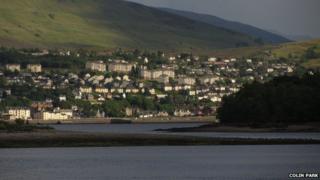 Super-fast broadband services have officially launched in Fort William.
More than 3,240 homes and businesses in the Lochaber town now have access to the high-speed technology, installed as part of the BT Openreach programme.
This figure will increase to around 3,880 as engineers complete the local upgrade in the weeks ahead.
Highland Council leader Drew Hendry said the upgrade would help stimulate local businesses and create jobs.
Mr Hendry said: "Super-fast fibre broadband in Fort William offers huge benefits to local residents and businesses and will help our local economy to flourish. Better, faster communications help businesses to grow and stimulate job creation.
"The arrival of fibre broadband means local people and firms can do more online at faster speeds and on multiple devices.
"This is great news for many people in Fort William and I look forward to fibre broadband being rolled out across the rest of the Highlands."
In Scotland, BT said it was investing about £126m in fibre broadband partnerships with the Scottish government, Highlands and Islands Enterprise, the Department for Culture, Media and Sport (Broadband Delivery UK), European Regional Development Fund and Scotland's local authorities.
BT Scotland director Brendan Dick said: "Businesses tell us it's helping them in a wealth of ways, from day to day activities like downloading software, collaborating with clients and moving large data files around to big business decisions like expanding the workforce or introducing better quality IT services at less cost."