Pair set new record in Southampton-built Nessie pedalo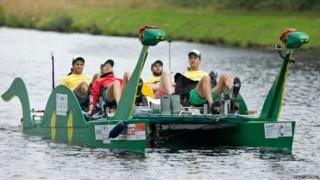 Two men have broken a Guinness World Record in a Loch Ness Monster-shaped pedalo built in Southampton.
Nico Kirby and Ed Foster set a new time for the fastest 100m sprint in a two-person pedalo.
Their time of one minute 36.94 seconds, recorded at the Caley Marina in Inverness, beat the previous time set two years ago.
That record of one minute 58.62 seconds was achieved by cricketers Andrew Flintoff and Steve Harmison.
Mr Kirby and Mr Foster recorded their time during part of fundraising trip to Scotland.
In a separate venture with two other people they will attempt to power the pedalo around the north Highland coast.
Along with Natasha Kirby and Sholto Morgan, they hope to raise more than £250,000 for charity by pedalling 500 miles (800 km).
The team of four are from London, Fife and Aberdeen.
They commissioned ship science engineering students at the University of Southampton to build the vessel.
It took a team of six masters students seven months to build the pedalo as part of a group project.