North African Oleander hawk moth spotted on St Kilda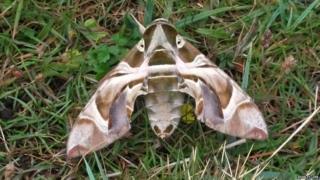 A North African moth has been recorded for the first time in the Outer Hebrides.
The Oleander hawk moth, a rare migratory visitor to the UK, was spotted on St Kilda.
The sighting has come just over two months after a bat was recorded for the first time on the remote archipelago.
The Nathusius' pipistrelle, which is also a rare sight on the UK mainland, was spotted by visitors to the main island of Hirta.
The National Trust for Scotland, which manages St Kilda, said it was not known from where the bat had flown.
It was spotted on the wall of a stone-built store known as a cleit. Hirta was abandoned by its last human residents in 1930.