New report confirms water vole colonies in Torridon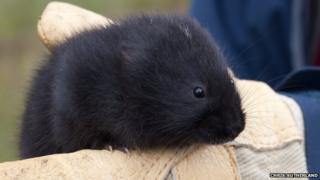 The discovery of water vole colonies in Britain's oldest national nature reserve have been confirmed in a new report.
Ecologists found evidence of one of the UK's rarest mammals at 19 locations in Beinn Eighe NNR in Torridon in 2011.
In their report on the survey for Scottish Natural Heritage, scientists said eight were active colonies.
Water voles received legal protection in 1998 after suffering a rapid and serious decline in numbers.
Their distribution in the Beinn Eighe reserve was unknown until the survey was done.
The reserve in the north west Highlands includes the 1,010m (3,314ft) mountain, Beinn Eighe.
Wiped out
The Beinn Eighe NNR was created in 1951 and is managed by SNH.
As many as 50,000 hillwalkers visit the area every year, according to the agency.
Earlier this month, RSPB Scotland said water voles had been recorded in a part of the Highlands for the first time in 20 years.
The population was spotted at the charity's Insh Marshes reserve in Badenoch and Strathspey.
The RSPB said it believed efforts to eradicate non-native American mink had helped to encourage the return of the rare animals.
The mammals were wiped out along the main stem of the River Spey, with only a few holding on in isolated pockets in the hills and headwaters.
Since 2011, the Scottish Mink Initiative has eradicated mink from large parts of northern Scotland, including the Cairngorms National Park and Insh Marshes.
RSPB Scotland said this had allowed water voles to re-establish themselves in those areas.