Move towards Scottish sea eagle management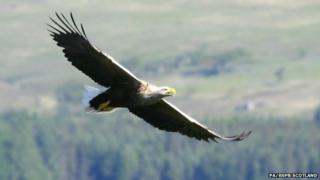 An action plan could be in place by 2017 to manage white tailed sea eagles and their impact on farming.
Farmers and crofters have complained of sheep falling prey to the raptors, which were reintroduced to Scotland in the 1970s.
NFU Scotland and Scottish Natural Heritage have agreed to work towards the action plan with other bodies.
The accord includes more immediate measures, including a plan to continue a compensation scheme next spring.
Sea eagles are the UK's largest bird of prey and one of its most protected species.
NFUS said the new joint statement of intent was an acknowledgement that the birds posed problems for farmers, but also recognised that eagles "are here to stay" and were part of Scotland's biodiversity.
The union added that management of the species did not mean shooting them.
Scare away
The agreement will see a new Sea Eagle Management Scheme. The previous scheme compensated farmers and crofters for the loss of stock to eagles, but came to an end this year.
It is expected to be in back place by spring 2015, subject to funding approval from SNH and the Scottish government.
Contractors will also be available, free of charge, to record incidents of eagle predation and to offer advice on how to scare away the birds.
In some cases, diversionary feeding may also be suggested as a solution.
NFUS said the contractors would understand the conservation needs of eagles, but also their impact on farmers.
A new sea eagle scheme steering panel will also be set up to develop proposals for sheep, sea eagle and habitat management measures.
It will have representatives from the NFUS, SNH, Scottish Crofting Federation, RSPB Scotland and the Scottish government.
And new local stakeholder groups will be set up by November this year, initially to cover Mull, North Argyll and Lochaber, also Skye and Lochalsh, Gairloch and Wester Ross.
The sea eagle action plan, meanwhile, will be published by September 2016 and implemented by March 2017.
'Economic benefits'
Under the terms of the agreement with NFUS, SNH said it recognised that sea eagle predation on live lambs occurs.
This was noted by a previous study on the Isle of Mull.
However, SNH said this, and another study, found no evidence of "widespread significant predation" on live lambs, and concluded that most lambs found in eagle nests were taken as carrion.
The agency added that examination of some nests had frequently revealed remains of dead lambs, and it accepted that some of these would have been taken when live.
Environment Minister Paul Wheelhouse said sea eagles were a valuable part of Scotland's biodiversity and attracted tourists.
He added: "However, we also recognise that there have been concerns in some farming quarters that they are having an effect on lamb production.
"I warmly welcome SNH and the NFUS working together to find ways of minimising any adverse impacts on livestock and supporting agricultural production which also making the most of the wider economic gains from sea eagles now established in Scotland."
'Clear timetable'
NFUS president Nigel Miller said: "Today's agreement with SNH is a lot more than a commitment of two organisations to collaborate, it is a significant milestone towards understanding and managing Scotland's sea eagle population.
"The joint plan will be driven through regional groups involving farmers and crofters, and has a clear timetable."
SNH chairman Ian Ross said the agency recognised that there were concerns about the impact of sea eagles on farming.
He added: "It is also important to recognise the economic benefits that sea eagles bring to tourism, particularly to rural areas, while acknowledging that in some cases, sea eagles have taken live lambs.
"We are working closely with farmers and crofters to minimise the conflict between the birds and their impact on livestock."