Endoscopy to be suspended at Broadford hospital on Skye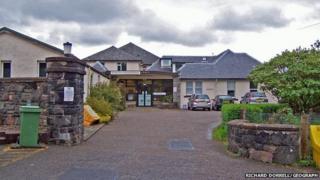 Dozens of patients in Skye and Lochalsh requiring internal examinations will have to travel up to 100 miles from next month to undergo a procedure.
NHS Highland is suspending its endoscopy service at the Mackinnon Memorial Hospital in Broadford because of the costs.
It said the procedures would be done at Belford Hospital in Fort William.
The NHS board added that it would work with patients to resolve any transport issues.
The move follows concerns about the Broadford hospital's ability to decontaminate the endoscopy equipment, which is used for specialist internal examination of abdominal organs.
NHS Highland said it did not believe there have been unacceptable risks to patients until now because staff had been carrying out extra cleaning measures.
However, the additional cost of upgrading the current facilities and plans for a new hospital for Skye and Lochalsh had prompted it to put on hold any further endoscopy examinations at the MacKinnon Memorial.