New women's course record for Loch Ness marathon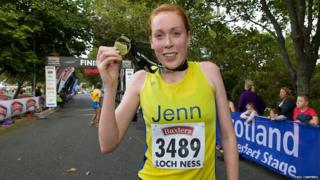 A new course record was set in the women's marathon event in Sunday's Loch Ness Marathon and Festival of Running.
Jennifer Emsley, of Stirling-based Central Athletics Club, ran in 2 hours, 46 minutes and 10 seconds - 27 seconds faster than the previous time.
Manchester-based Tomas Abyu won the men's event for the fourth time. He crossed the finish line in 2 hours, 22 minutes and 41 seconds.
Mr Abyu previously won the marathon in 2003, 2010 and 2011.
More than 8,200 people took part in the Baxters Loch Ness Marathon and Festival of Running.
Organisers said 46% of those involved came from outside Scotland.
The race programme included the marathon, River Ness 10k, a 10k corporate challenge, 5k and the Wee Nessie run for children.
The events were held on roads near Loch Ness, the River Ness and Inverness.