Sickness closes ward at Raigmore Hospital in Inverness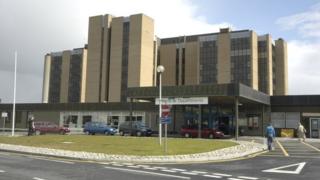 Sickness and diarrhoea has closed a ward to new admissions at the largest hospital in the Highlands.
Ward 2A at Raigmore Hospital in Inverness has eight patients with symptoms.
NHS Highland said one of the patients had tested positive for the winter vomiting bug, norovirus.
The virus, which causes diarrhoea, nausea and vomiting, spreads in the air where someone has had diarrhoea or vomited.
Dr Jonty Mills, consultant microbiologist for NHS Highland, said: "As well as restricting visiting to the affected wards we are also asking people not to come to the hospitals to visit if they have had any vomiting or diarrhoea within the previous 48 hours.
"By doing this we will be able to limit the spread as much as possible."
He added: "Hospital staff will, of course, be very happy to talk to visitors on the phone so they can get updates on how their relatives are."