Best corncrake season in at least 45 years, says RSPB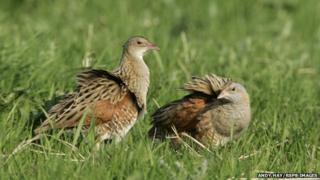 One of Scotland's rarest breeding birds has had its most successful season in at least 45 years, RSPB Scotland has said.
Surveys for corncrakes recorded 1,289 males between May and July this year - the highest number since counts of the birds began.
Male corncrakes can be detected from the "crex-crex" call that they make.
The RSPB had expected low numbers this year after the species declined by 23% in 2013.
Corncrakes are shy, pigeon-sized birds which breed in Scotland and migrate to Africa in winter.
They mainly stay hidden among tall vegetation where they can safely raise a family.
Once found across Scotland, numbers of males fell to 400 in the 1990s.
Changes to farming methods, including hay being mowed earlier in the year, were blamed for the decline.
Today, the highest concentrations are recorded on the Hebrides and Orkney.
RSPB Scotland said conservation projects involving crofters and farmers have helped to protect the birds.
The biggest single island population is on Tiree, an island that had 396 calling males this year.