New acting head for Bun-sgoil Ghaidhlig Inbhir Nis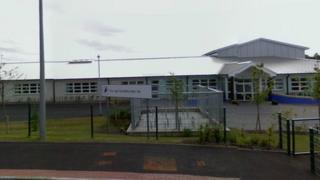 A new acting head teacher has been appointed at Inverness' Gaelic primary, which has been seeking to make a long-term permanent appointment.
Annie MacPhee, a fluent Gaelic speaker from Lewis, has been seconded from her role as a support for learning teacher at Glenurquhart and Beauly primaries.
She takes over from Janet Macleod, a fluent Gaelic speaker from Skye.
Ms Macleod agreed to be acting head until the October break. Mrs MacPhee's post runs until June 2015.
Highland Council said it would continue to seek a permanent appointment for the role at Bun-sgoil Ghaidhlig Inbhir Nis.
The school had a permanent head but he left in July.
James Lyon, a Gaelic learner, took over as head at Bun-sgoil Ghaidhlig Inbhir Nis in November last year, having been acting head there for a number of months.
He left to be head teacher of Grantown Primary School.
When the school opened in 2007, it was the first purpose-built Gaelic-medium school in Scotland.
However, for about five years, Highland Council has had difficulties filling the head teacher role.
A teacher from Sweden who was acting head at the school was interviewed for the job in November 2012 but was not appointed.