Schoolboy to tell experts in Edinburgh of newt discoveries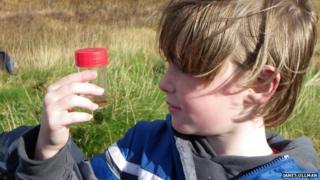 A schoolboy is to present the results of his surveys of unusual newt populations in the Highlands to experts on amphibians and reptiles.
Callum Ullman-Smith, 12, has been monitoring palmate newts in rock pools on Loch Alsh since he was seven.
The newts at the nine sites near Reraig are unusual because they live in saltwater and not freshwater.
Callum has been asked to give a talk at the Amphibian and Reptile Conservation Symposium in Edinburgh on Sunday.
The event is being held at the city's Royal Botanic Gardens.
Callum started the surveys near his home after he heard of palmate newt efts, the larval stage of the amphibians, beside Loch Linnhe near Fort William.
Scientist Dr Guntram Deichsel made this discovery in 2011 and he alerted David O'Brien, the Herpetological Recorder for the Highlands.