Study of rabbits' impact on Skye ridge extended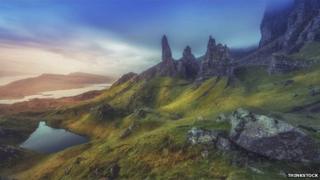 A study of the effect rabbits and sheep have on fragile upland plants in one of Scotland's most striking landscapes has been extended.
The Trotternish Ridge on Skye includes the Old Man of Storr rock formation.
Scottish Natural Heritage (SNH) has been monitoring how grazing by animals affects native plants and soil erosion.
The agency has extended the study, which involves fenced off areas, by eight years.
Some small, slow improvements in the state of plant life have been detected at the protected plots.
The Trotternish Ridge, a Special Area of Conservation, is owned by the Scottish government.
Historically, it was taken over by the state in 1904 and made available to crofters who had been forced off the land during the Highland Clearances in the 19th Century.
Upland plants, including rare grasses, grow on the ridge and have protection under Special Area of Conservation and Site of Special Scientific Interest designations.
Scientists from the Macaulay Institute, now part of the James Hutton Institute, previously carried out long-term monitoring to help assess the impact of grazing sheep and rabbits.
In a report for SNH in 2012, they suggested fewer sheep would reduce erosion and loss of plant life.
The scientists said a decline in hill sheep farming may lead to this situation without the need of intervention.
However, they said rabbits would need to be controlled because of their "significant" contribution to erosion.
The report said numbers of the animals, thought to have been introduced to Skye in the 1800s, were "high" around the base of the Storr.
The landscape of the Trotternish Ridge has been popular with climbers, walkers and also film-makers.
Director Ridley Scott shot scenes for his 2012-released science-fiction movie Prometheus, starring Noomi Rapace and Charlize Theron, on and around the ridge.