SSPCA takes in seal pups found at Scrabster and Wick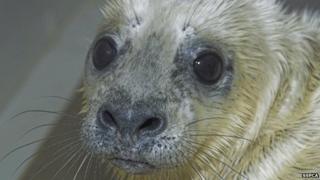 Two newborn grey seal pups are being cared for by the Scottish SPCA after being found orphaned in Caithness.
The pups were rescued by volunteers from British Divers Marine Life Rescue after being discovered on beaches at Scrabster and Wick on 2 November.
About two years old, the pair are being looked after at the SSPCA's National Wildlife Rescue Centre in Fishcross, near Alloa.
They have been named Aphrodite and Typhoon.
Centre manager Colin Seddon said high winds and heavy seas could have washed them from seal pupping grounds.
He added: "We're hopeful we'll be able to return Aphrodite and Typhoon back to the wild once they are fully fit and old enough to fend for themselves."