Western Isles groups urge SSE to tackle energy bills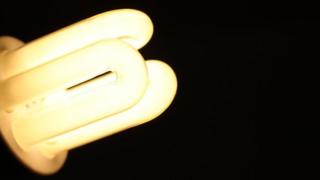 Councillors and campaigners on the Western Isles have urged SSE to push on with its work towards a "social tariff" for energy bills.
Comhairle nan Eilean Siar and Western Isles Poverty Action Group want an end to the 2p per unit surcharge consumers in the Highlands and Islands pay.
The surcharge is levied because of the higher cost of delivering power there.
In a meeting on Lewis, SSE said it was committed to a national price which would spread network costs evenly.
Any change to the pricing would require the approval of the energy regulator Ofgem.
During Monday's meeting, a petition of more than 1,150 names calling for the surcharge to be removed was presented to SSE representatives.
'Fair share'
The comhairle said the company had listened to the call.
Comhairle leader Angus Campbell said: "We made clear the dissatisfaction and anger of people in the islands that they are subject to an additional charge on their electricity, amounting to some 15% of the charges they pay.
"In an area with the highest levels of fuel poverty in the UK that is clearly unacceptable.
"The SSE representatives listened to the case we made and undertook to do further work on how a 'social tariff' could be introduced which could reduce bills.
"Whilst this would require the approval of Ofgem we made clear that we were of the view that SSE could reduce bills now if they were minded to."
SSE spokesman Gregg Clarke told BBC Alba that other regions in the British energy market had higher than average prices due to the different costs of transporting electricity and gas.
He said: "We feel it would be fair to all customers to address this by introducing a form of national pricing where you basically spread all the network costs evenly across every consumer within the market, so everybody pays their fair share towards the costs."