New ferry to take passengers on Ullpool-Stornoway route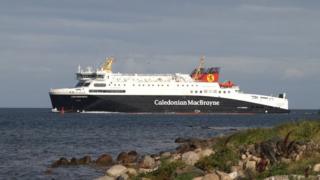 Ferry operator Caledonian MacBrayne has published details of how it will respond to the closure of Ullapool's linkspan to vehicles for six weeks.
Ullapool Harbour Trust has asked Transport Scotland to replace its 42-year-old structure early next year.
A new two-lane linkspan has been proposed so vehicles can move on and off ferries quicker and more quietly.
Comhairle nan Eilean Siar has criticised Calmac for its handling of the situation.
It said the arrangements should have been discussed with communities on the Western Isles.
The new ferry MV Loch Seaforth will be used for a passenger-only service from Ullapool to Stornoway on Lewis.
MV Isle of Lewis will take passengers and vehicles between Stornoway and Uig on Skye during the disruption.
A freight service will also operate between Stornoway and Uig using MV Clipper Ranger.
Calmac said services on the "Uig triangle" with MV Finlaggan and MV Hebrides will be unaffected. The triangle involves sailings to and from Uig, Lochmaddy on North Uist and Tarbert on Harris.
Ullapool's linkspan is scheduled to be closed from 22 February to 7 April.
Martin Dorchester, managing director of Calmac, said there would be "significant inconvenience" for customers for a "limited time".
He added: "It has proved to be a significant logistical challenge, especially matching the different vessels to different tides to find a way of continuing to provide a service from Stornoway, but we believe we have achieved a good solution that will ensure the continued flow of traffic to and from the Western Isles for the duration of the works."
Ullapool harbourmaster Kevin Peach said the work to the linkspan was unavoidable.
He said: "We will do all we can to minimise disruption for our customers and get this improvement work completed as quickly as possible and apologise in advance for the inevitable inconvenience to the travelling public and local residents."
John Mackay, the comhairle's chairman of transportation and infrastructure, said the arrangements were "disappointing".
He said: "On most days there appears to be only one return trip for vehicles between Stornoway and Uig and this is bound to have an impact on how goods are delivered to and from the islands.
"The people of these islands are being treated discourteously by Calmac who for a six week period will be reducing services and causing major disruption with no consultation or consideration of alternative arrangements.
"It is not acceptable for a publicly owned company to behave in this manner."