Tom Cruise linked to Sean Connery's Highlander role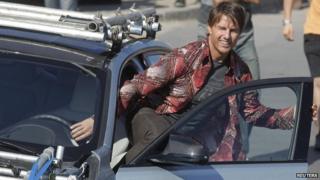 Tom Cruise has been linked to a role made famous by Sir Sean Connery in a reboot of 1986 cult fantasy movie Highlander.
Summit Entertainment hopes to cast Cruise as Spanish sword fighter Juan Sanchez Villa-Lobos Ramirez, according to Empire.
Connery played the character with a Scottish accent.
Cruise recently appeared in sci-fi Edge of Tomorrow and has been filming scenes for Mission: Impossible 5.
Last year, Cedric Nicolas-Troyan was appointed director of the Highlander remake after Juan Carlos Fresnadillo quit.
Nicolas-Troyan works in visual effects. He received an Oscar nomination for his supervision of effects on Snow White And The Huntsman.
BBC News Scotland online reported in 2009 that Summit had been offered help looking at possible locations in Scotland.
Scottish Screen passed its contact details to the company via the US office of the UK Film Council.
Panned by critics, the original Highlander was a hit with cinema audiences and was followed up by a series of sequels and a television series.
French actor Christopher Lambert played Connor MacLeod, an immortal who fought his first battle in the Scottish Highlands in 1536.
He goes on to combat other immortals on the streets of New York City in 1986, killing them by cutting off their heads.
Scenes were shot at Eilean Donan Castle, at Glencoe, Glen Nevis, Loch Shiel and on the Cioch, a pinnacle of rock in the Cuillin mountain range on Skye.
Actors Kevin McKidd and Ryan Reynolds have also been linked to lead roles in the reboot.