Inverness event to promote accessible tourism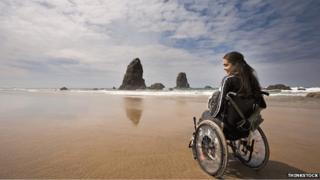 Tourism businesses are to be encouraged to make themselves more accessible to visitors with disabilities, older people and young families.
Since 2009-10 accessible tourism spend in Scotland has risen from £325m to £391m, according to VisitScotland.
But the Highland Tourism Conference in Inverness will hear that there is potential to further increase spending.
VisitScotland said accessible tourism was an emerging market that involved 1.3 billion potential visitors.
A workshop on how businesses can better cater for the tourists will be held as part of Wednesday's conference.
Guide dogs
Leading the workshop will be VisitScotland's head of equality and diversity Chris McCoy.
Philip Biggs, a former police officer who is now involved in training businesses on how to help people who need assistance dogs, will also be involved.
Accessible tourism involves people with physical, sensory or learning disabilities, as well as older people and parents with small children.
The main thrust of the conference will be to promote food and drink tourism.
The event is being held in Inverness' Kingsmill Hotel, which has adapted its services to cater for accessible tourism.