Repairs scheduled for burst Inverness water main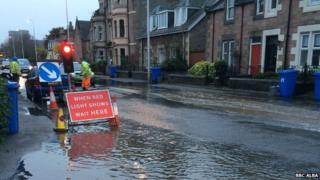 Scottish Water will carry out further repairs to a mains pipe in Inverness following a burst that affected supplies and flooded a road on Tuesday.
The problem in Kenneth Street resulted in low pressure and discoloured water.
The burst pipe flooded parts of Kenneth Street for a time before the water was cleared away.
Scottish Water said the repairs would begin at 19:00 to avoid disrupting peak-time traffic and it expected the repairs to be completed on Wednesday.