Dounreay operator served with ONR improvement notice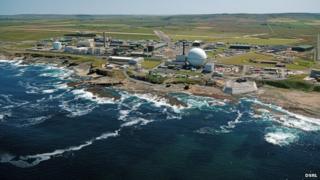 The Office for Nuclear Regulation (ONR) has served the operators of the Dounreay nuclear power complex with an improvement notice following a fire.
The incident, in part of the Prototype Fast Reactor (PFR) facility, on 7 October led to an "unauthorised release" of radioactivity.
The ONR said it had been concerned by poor compliance and "unacceptable behaviours of personnel".
Dounreay Site Restoration Limited (DSRL) has been served with the notice.
The company has been told to make appropriate improvements to preventative and protective measures for the decommissioning of the PFR's sodium tank farm by 30 June 2015.
'Several concerns'
ONR deputy chief inspector Richard Savage said: "The incident revealed several concerns, notably a poor compliance culture and unacceptable behaviours of personnel on site.
"We are looking for evidence of improvements to effective planning; control and monitoring that will prevent future incidents occurring, and protect the public during the decommissioning of the plant."
Trace amounts of tritium were released into the environment because of the fire. DSRL said it did not pose a risk to the public.
No-one at the plant was hurt in the early morning incident.
The Caithness site's fire brigade extinguished the blaze within 30 minutes.
The Scottish government and WWF Scotland have raised concerns about the incident.