Plan to draw 'geo tourists' to Scotland's first geopark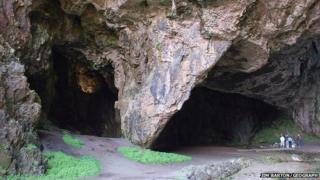 A part of Scotland with some of the oldest rocks in Europe could become a magnet for tourists fascinated by ancient geology.
The North West Highlands Geopark was the first in Scotland when it won Unesco geopark status in 2004.
Its important features include Smoo Cave and the Moine Thrust, geology formed when two ancient continents collided about 430 million years ago.
The park's operators want to increase its appeal with a new "Geocentre".
To be sited in Scourie, it would be promoted as a centre for excellence in earth sciences and house the Shelley Collection of ancient Orcadian stone, minerals and fossils.
Funding is being sought for the new building, which could attract visits from scientists, schools and "geo tourists".
Volunteers run the geopark with support from Highland Council and funding from the Scottish government.
Smoo Cave near Durness in Sutherland already attracts more than 40,000 people a year. It has the largest opening of a limestone cave in Britain.
Smoo is said to be derived from a Norse word "Sumvya", meaning creek or cleft.
The cave was in use 6,000 years ago by the earliest settlers in the north.
It has been suggested that it was later used by smugglers and has links to supernatural stories.
A feared 16th Century highwayman, known as McMurdo, is said to have murdered his victims by throwing them down a blowhole in the cave.
Hundreds of millions of years ago, a collision of two ancient continents pushed massive sheets of rock 62 miles (100km) to the west creating the Moine Thrust and many of Scotland's mountains.
The effects of this thrusting can be seen at Knockan Crag, Traligill, Loch Glencoul, Foinaven, Faraid Head, Eriboll and Whiten Head.
Last year, British Geological Survey created a 3D interactive model of a section of the Moine Thrust Belt known as the Assynt Culmination.