Global Energy Group lays off 30 staff at Nigg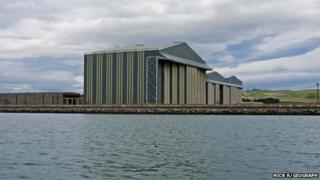 One of the largest employers in the Highlands has had to lay off workers due to a downturn in oil and gas business.
Global Energy Group is understood to have had to let go of about 30 employees at its Nigg yard on the Cromarty Firth in Easter Ross.
The Inverness-headquartered company said having to lay off staff was regrettable.
A spokesman added that it still employed thousands of people.
Global Energy Group has plans for a new harbour on the Cromarty Firth. The spokesman said the facility would help to secure new contracts for the Nigg yard.
The Cromarty Firth Port Authority, which operates a harbour at Invergordon, has criticised the proposal.
The Global Energy Group spokesman said: "We can confirm that due to a general downturn in oil and gas business we have regretfully had to let some staff go.
"The cyclical nature of some projects in the Cromarty Firth entails staff numbers rising and falling in line with customer demand and, as we have been seeing, this is true of many other companies working within this marketplace.
"However, Global Energy Group continues to provide employment for thousands of workers in the region."