Most northerly records of beetles made in Scotland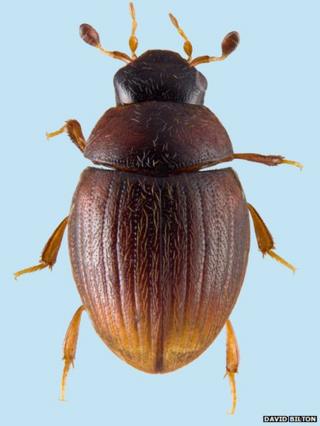 Two rare beetles have been recorded at their most northerly locations, according to RSPB Scotland.
A water scavenger beetle called cryptopleurum subtile was identified in a survey of woody debris along the River Nethy near Aviemore.
The second beetle, a whirligig called gyrinus paykulli, was found at the RSPB's Loch of Strathbeg reserve near Aberdeen.
The insects had previously been found further south in Scotland.
It is only the second Scottish record of the water scavenger beetle. The first was recorded in Melrose in 1969.
There are fewer than 20 records of cryptopleurum subtile in the UK.
Gyrinus paykulli have two pairs of eyes because they live on the surface of water. One set faces up and the other down.
The beetles also gather in groups called flotillas and the insects move at high speed when disturbed.
They have been found in Fife and Perthshire and the last record of the beetle in Scotland was in 1999.
Genevieve Dalley, a trainee ecologist at RSPB Scotland, made the finds near Aviemore and Aberdeen.
She said: "These beetles may not have been noticed very often in Scotland before as they are part of an under-recorded group of animals and, superficially, look very similar to other species.
"However, when you get a closer look and start learning about their lifestyle they are unique and brilliant creatures."
Earlier this year, the ecologist found a species of insect not previously recorded in Scotland.
Molanna angustata is a type of caddisfly that inhabits Wales and England up to the Lake District and Yorkshire.
Ms Dalley discovered and identified two males caught in a moth trap at Insh Marshes, near Kingussie.
The flies' larvae live in water and create protective cases.
These tubes are made from tiny particles of sand and stuck together with silk.
When they have grown to a winged adult, they chew their way out of the case and swim up to the surface where they eventually fly away.