Fall in oil price brings pain and gain for Scotland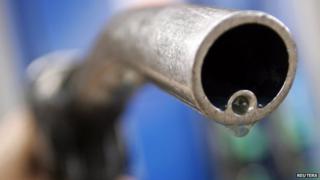 The price of oil falling to a new five-and-a-half year low will further challenge the North Sea industry, a union leader has said.
But Aberdeen-based Tommy Campbell, of Unite, added that the sector had to move away from "negative talk" and work together to protect jobs.
The price of Brent crude has fallen to $52.27 per barrel, its lowest level since May 2008.
The fall, however, has led to savings in fuel prices for motorists.
Supermarket chains Morrisons, Sainsbury's and Asda are reducing prices by 2p a litre on both petrol and diesel.
Tesco's price reduction took effect on Monday.
Leading figures in the North Sea oil and gas industry have been warning of the effects of falling oil prices, which has affected share prices for major energy companies such as BP and Shell, for several weeks.
About 375,000 people work in the UK oil industry and half of those are in north east Scotland.
Mr Campbell, a regional officer with Unite, said the latest drop in the price of crude would make conditions more challenging for the industry.
He told BBC Scotland: "It is certainly going to cause some difficulty over the coming year."
But he added: "I think if we all work together and co-operate we can protect jobs, save jobs and generate jobs."
Price war
The Unite officer said he supported Aberdeen City Council's call for an oil summit and a report by oil industry veteran Sir Ian Wood recommending greater co-operation in the North Sea sector.
Last month, Sir Ian said falling oil prices could lead to job losses.
He added that investment plans were made a few years in advance, so the impact would not be immediate. He also said he expected conditions would begin to recover this year.
For motorists, the situation has led to lower costs for fuel and sparked a supermarket price war.
The RAC has predicted that petrol could fall as low as £1 per litre, although the AA was more sceptical.
According to the website PetrolPrices.com on Tuesday, the lowest prices in and near Lerwick on Shetland was 112.9p for unleaded petrol and 118.9p for diesel.
In Kirkwall on Orkney, it was 116.9p and 119.9p and in Stornoway 114.9 for both unleaded petrol and diesel.
Inverness prices were 108.9p and 114.7p, Aberdeen 106.9p and 114.7p, Perth 107.7p and 114.7p, Dundee 106.9p and 114.7p, Glasgow 107.7p and 114.7p, Edinburgh 107.9p and 114.7p and Dumfries 109.9p and 115.9p.