Limits on inshore dredging off Scotland's coast examined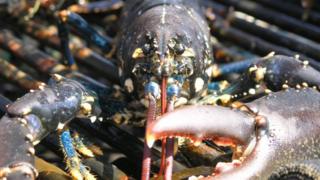 The Scottish government is considering proposals to limit dredging and trawling in inshore waters to conserve fish and shellfish stocks.
Imposing the restrictions would benefit the environment and increase income and employment in the long term, according to a report to the government.
But more remote fishing areas in the Highlands and Islands could be hit by the proposals.
The report said restrictions could lead to job losses in these places.
The study looked at the effects of stopping dredging and trawling for prawns, lobsters and scallops from being done one to three miles (1.6-4.8km) from shore.
The report concluded that, overall, Scotland would benefit over a 20-year period because improved marine recreation would generate many more jobs than those lost in the commercial fishing sector.
However, it said fisheries in the north west, far north coast and islands could see net job losses and income from fishing decline by millions of pounds.
But the report suggested this could be minimised by imposing any restrictions selectively to areas like the north east, the Clyde and south west of Scotland where the greatest benefits from increased marine recreation would be felt.