Help for lorry crew involved in Inverness fatal collision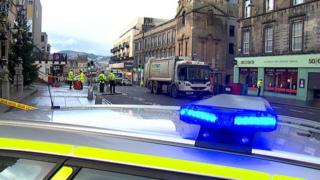 Three crew members of a recycling lorry involved in a fatal collision with a pedestrian in Inverness are receiving counselling, their employer has said.
A 56-year-old man died in the incident on Bridge Street, near the junction with Castle Wynd, on 31 December.
Northern Recycling, whose lorry was involved, said it wanted to convey its sincere condolences to the man's family.
It said its three staff had been traumatised by the incident.
In a statement, the firm said: "We can confirm that there was a team of three onboard the lorry at the time of the collision.
"They are understandably traumatised and very distressed. We have put in place counselling for our driver and his two assistants who were all caught up in this tragedy.
"Police Scotland have advised that a report into the incident will be issued in due course."
Earlier this week, police said the man's family had asked that the force did not release his name to the public.