Lost Ben Macdui hillwalker tells of rescue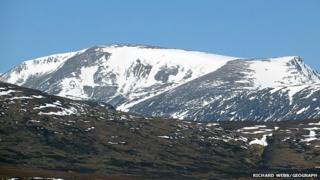 One of two hillwalkers rescued from near the summit of Britain's second highest peak in blizzard conditions has spoken about the incident.
Alex Kirby and his companion Luke Copeland got into difficulty close to the north summit of Ben Macdui on Wednesday night.
Four members of Cairngorm Mountain Rescue Team found the pair.
Mr Kirby said they were caught out after the weather deteriorated quicker than they had anticipated.
He said: "We'd camped the night before after a perfectly nice day and we knew the conditions were going to get worse.
"We thought we'd be off by the time it got that bad."
Mr Kirby added: "We got a bit lost because we couldn't see so we decided to settle in and call for help."
The men, who had previously walked the Cairngorm Plateau in summer conditions, set up their tent to shelter from the worsening conditions.
Winds were gusting up to 100mph and torrential rain soaked the walkers' gear.
Using a map and compass, they were able to text a friend a grid reference which was then given to Cairngorm MRT.
The alarm was raised at about 17:00 and the rescue was concluded at about 23:20 on Wednesday.
Cairngorm MRT leader Willie Anderson said forecasts for worse weather on Thursday meant it was crucial the hillwalkers were found quickly.
He said: "We were really concerned for these folk as the chances of survival on a night like this were very slim."
"The weather had completely overwhelmed them. It completely soaked and trashed their gear.
"We don't like to criticise people unnecessarily, but I was surprised to find anyone up there given the weather conditions."
The rescue team praised the skills of the Royal Navy helicopter crew from HMS Gannet at Prestwick in Ayrshire.
Operating in difficult conditions, the air crew airlifted the walkers and the four team members to safety.