Most northerly grove of Jurassic tree survives storms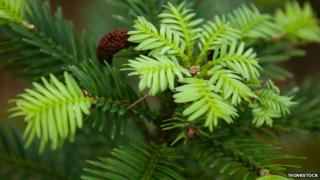 Jurassic trees growing in the north west Highlands have survived storms that uprooted other trees nearby.
Inverewe Garden, near Poolewe in Wester Ross, has the world's most northerly grove of Wollemi pine.
Thought to have died out two million years ago, the species was discovered in Australia in the 1990s. Eight were planted at Inverewe in 2009.
Winds gusting to speeds of 100mph hit the garden last week, taking down Japanese cedar and Noble fir.
Shrubs planted by the garden's founder Osgood Mackenzie in the 1800s were also damaged.
Roy Dowsett, who manages the National Trust for Scotland property, said: "The wild weather over the last week has wreaked havoc at Inverewe Garden and across the estate.
"We are still assessing the full extent of the damage."
The Wollemi pines have survived previous severe weather events.
In January 2010, the garden had its coldest temperatures in more than 30 years.
The trees at Inverewe were cultivated from those found to have survived in a single isolated grove in Australia.
The discovery of the pine in 1994 caused a scientific sensation, and prompted the Australian government to protect the site where it was growing.
Park ranger David Noble found the trees in the Blue Mountains, west of Sydney.
The species was thought to have been extinct for at least two million years. The only previously known examples were fossils which were 175 million years old.
Plants and trees at Inverewe benefit from the North Atlantic Drift, a warm ocean current.
The garden's collection also includes Chinese rhododendrons, Himalayan blue poppies and Mediterranean rock roses.