EC approves rural fuel rebate scheme rollout to 17 areas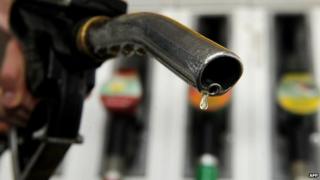 The European Commission has approved the rollout of rural fuel rebates to 17 areas in Scotland and England.
The scheme allows retailers to claim back up to 5p per litre duty relief on unleaded petrol and diesel, and pass on the savings to customers.
The 17 areas include parts of the Highlands, Argyll and Bute, Northumberland, Cumbria, Devon and North Yorkshire.
The European Union has still to approve the introductions of the scheme.
The UK government's discount has applied to the Hebrides, Northern Isles, islands in the Clyde and the Isles of Scilly since 2012.
Chief Secretary to the Treasury Danny Alexander said the EC's decision was a "major step" towards the eventual rollout of the scheme to the new areas.
'Top priority'
He said: "Even though fuel prices are falling across the country, they are still higher in very rural areas.
"While we have one more stage to go, I want to make sure we are ready to implement this as a top priority so we will press for this to be heard as soon as possible and are today publishing the necessary draft regulations.
"I'm determined to implement the rural fuel rebate in the current parliament as part of this government's drive for a stronger economy and fairer society."
The Highlands postcodes involved are: IV54, IV26, IV27, PH36, IV22, PH41, KW12, PH23, PH19, IV21 and IV14.
The Argyll and Bute postcodes are PA80 and PA38.
The English ones are: NE48 (Northumberland), LA17 (Cumbria), EX35 (Devon) and Hawes in North Yorkshire.
The UK government said they were selected because of the high prices of the fuel available and the expense of transporting petrol and diesel to fillings station in the areas.