New Ullapool-Stornoway ferry 'sailing by end of May'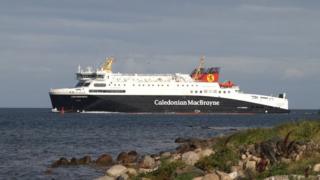 Transport Minister Derek Mackay says he is confident the new MV Loch Seaforth ferry will be operating on the Ullapool to Stornoway route by the end of May.
The £42m vessel had been expected to be sailing on the service late last year.
Delays to work upgrading facilities at Stornoway on Lewis, which has had a knock on effect on improvements at Ullapool, has held up its introduction.
A tourism body and two hauliers on the Western Isles have criticised the handling of the situation.
A taskforce led by Mr Mackay has been set up to seek to resolve the issues with the improvements.
Work to install a new linkspan, which allows vehicles to move on and off ferries, at Ullapool ferry terminal has been pushed back from February to April because of delays in upgrading Stornoway harbour.
The improvements are needed before ferry operator Caledonian MacBrayne can start using the MV Loch Seaforth on the route.
The work at Ullapool is due to begin on 20 April and last for five weeks.
Tourist season
Following the first meeting of the taskforce, Mr Mackay said: "Everybody involved in this project wants the work to be completed and see the MV Loch Seaforth operating on the Stornoway-Ullapool route as soon as possible."
He added: "Ultimately, we would like to see the infrastructure works completed and the MV Loch Seaforth fully deployed on the Stornoway-Ullapool route by the end of May, and all the organisations involved have agreed to work towards this target.
"I convened this taskforce because I shared the concerns of the local communities affected. In moving forward the community will be kept fully informed of progress and, through Calmac, the taskforce will be engaging with the community and local stakeholders directly."
Outer Hebrides Tourism said the delays will damage this year's tourist season.
Haulage companies Woody's Express Ltd and DR Macleod Ltd have raised concerns about relying on one ferry to operate on the route.
They said a two-ferry service should have been put in place as the service was vulnerable to a breakdown on the ship.