Two marmoset monkeys stolen from garden in Nairn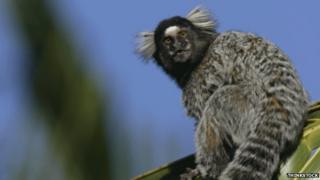 Two small monkeys have been stolen from an enclosure in a garden in Nairn.
The common marmosets were taken from the Balmakeith Drive area between 16:30 and 22:50 on Saturday.
The monkeys are 12 months and 11 weeks old. Police said the oldest of the pair could be aggressive and give a serious bite or scratch.
The theft came after a man had earlier turned up at the house where they are kept. He offered to buy the monkeys but was turned down.
He was described as white, late 20s, short, medium build and had a roundish face.