Clan chief can claim expenses in Nairn gate row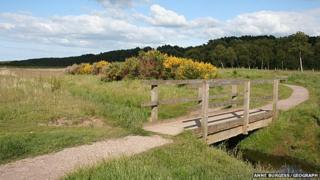 A clan chief has been allowed to claim expenses in a legal dispute with a council about a gate allegedly blocking public access to a beauty spot.
Highland Council was found liable to Alexander Brodie of Brodie, the 27th Clan Chief of Brodie, for costs in the case at a hearing in Edinburgh.
The dispute about Nairn's Kingsteps has been running for two years.
Highland Council has sought to abandon its legal action against Mr Brodie, but may raise fresh proceedings.
Its counsel, Graham Dunlop, told Lord Uist at the Court of Session in Edinburgh that the case had "quite a rich history".
In 2012 a gate was put up on a private road which leads to a council-owned car park and also a beach and RSPB reserve at Kingsteps.
Mr Dunlop said the road was understood to be partially owned by Mr Brodie and a family trust.
The counsel said the main submission made by the local authority was that the road was a public right of way.
A rave
Highland Council secured an interim interdict against Mr Brodie last year prohibiting him from obstructing access by vehicles, foot, pedal cycle and horseback to and from the car park.
Mr Brodie said he had been approached by local residents about closing the gate.
Lord Uist said he would allow the council's minute to abandonment to be received and gave two months to Mr Brodie to lodge an account of expenses
The action can only be formally dismissed when the expenses have been paid.
Outside the court, Mr Brodie said there had been complaints about drug taking, noise, overnight stays and dog fouling in the area.
The clan chief also said a rave had been held at the beach which disturbed the birds at the reserve and left rubbish scattered all over the place.