Inverness West Link: Council planning £7.4m golf course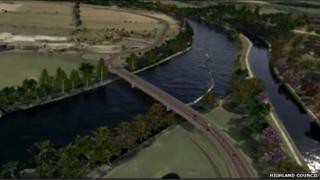 Highland Council is to seek planning permission for a £7.4m golf course, clubhouse and practise area it proposes to build in Inverness.
The facilities are to be created for Torvean Golf Club. Parts of its existing course lie on the route of the city's new West Link road.
The West Link project also includes the construction of a sports hub.
However, a senior councillor said the local authority was assessing what the hub would involve.
A detailed planning application for the new Torvean Golf Club on nearby land will be submitted on Friday.
The plans include an 18-hole course, clubhouse, practise area and maintenance buildings.
Highland councillors granted full planning permission for the Inverness West Link and permission in principle for associated facilities, such as the golf course and sports hub, in April last year.
'Step back'
The West Link has been proposed by Highland Council as a way of easing travel across Inverness.
But it has been opposed by campaigners who say the road will lead to the loss of green space.
Thomas Prag, chairman of planning, development and infrastructure, said the £7.4m represented a "long-term investment" in sport and would benefit the "health of the community".
But he said the council needed to assess the proposed sports hub.
He said: "We need to take a step back a little bit at the moment to say 'ok, what is it that we now need?'."
Mr Prag said there were already existing sports facilities, while new ones would be created at the Inverness Campus which is being built at Beechwood.
He said the sports hub remained an "aspiration" but the local authority would have to be clear on what was needed.
In a later interview, Mr Prag said the council still wanted a sports hub but one that fitted Inverness' needs and did not compete with other city sites for the same customers and funding.