Culbokie to trial voluntary monitoring for speeders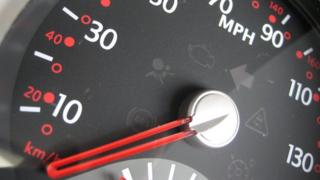 Residents are to monitor for motorists who break the 30mph speed limit through their village.
Police Scotland said the 12-week trial involving volunteers in Culbokie on the Black Isle was the first initiative of its kind in Scotland.
Using a lamppost-mounted speed monitor, residents will note the registrations of vehicles breaking the limit.
Letters from the police will be sent to the motorists warning them of their driving behaviour.
Police Scotland said the scheme could potentially be rolled out to other communities.
'Helping ourselves'
Ch Supt Julian Innes said: "The safety of individuals and communities is the number one priority for Police Scotland so it is excellent to have this level of community engagement and empowerment to provide support to our policing duties.
"It is hoped that drivers who are speeding will think again when they receive our letter."
He added: "Just by having a visible presence in the village, the volunteers will be reinforcing the speed safety messages for all road users."
Bruce Morrison, chairman of Ferintosh Community Council, which covers Culbokie, said the idea had come from the local community.
He said: "We see this as an effective way of helping ourselves to raise awareness of the issue of speeding in the village continuously over the next few months.
"Our hope and expectation is that the visibility of volunteers will reiterate the road safety messages and encourage us all to make any necessary changes to our driving."