Woman tells of alleged abuse at panto costume fitting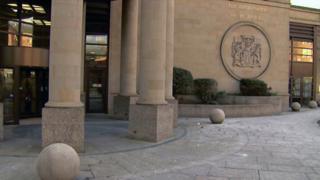 A 19-year-old student has told the High Court in Glasgow that she was sexually abused by a man when she was 12.
She told the trial of Mark Maclennan, 30, that he touched her, on occasions, over a period of almost three years, including at a panto costume fitting.
The abuse was alleged to have happened in Stirling, Dunblane and Dunfermline between October 2007 and July 2010.
Mr Maclennan, from Bath, denies all charges of child sexual abuse against him, including raping a toddler.
He has been accused of raping the boy, who was two or three years old, at a nursery in Inverness-shire between 1 August 2012 and 23 May 2013.
Mr Maclennan has also denied sexual abusing a young girl and a boy at the nursery.
He is also accused of, between February 2009 and May 2013, having in his possession indecent photographs of children at the nursery and at an address in Stirling, and between 22 February and 28 March 2009 taking, or permitting to be taken, indecent photographs of children.
Mr Maclennan denies all the charges against him.
Measuring tape
The university student, who cannot be named for legal reasons, said she met Mr Maclennan when she was doing amateur dramatics.
He was a volunteer and acted as a chaperone for children taking part in productions.
She told advocate depute Kath Harper, prosecuting, that the alleged abuse began when Mr Maclennan was fitting her for a costume for a pantomime at the MacRoberts Centre in Stirling.
The woman said: "He said one of the measurements he needed was between my legs for which he required me to remove my clothing.
"He asked me to remove my trousers and later my underwear as well. I found it odd."
She said that the measuring tape was held against her legs and private parts, adding: "I was very uncomfortable. I was frightened and embarrassed."
The jury was told that on another occasion the girl took ill and was taken by Mr Maclennan to the disabled toilets.
She said he put an ice pack on her head and told her to lie down and then pulled down her trousers and underwear.
The woman said: "He rubbed my stomach at first and then further down. He did this with both hands. I was slightly mortified."
During rehearsals
She told the jury that Mr Maclennan gave her lifts from her home in Dunblane to the amateur dramatics.
She claimed that on a number of occasions, while her parents were not there, he sexually abused her.
The last occasion that Maclennan allegedly abused her was during rehearsals for a production of Billy Elliot in Dunfermline when she claimed he threaded the microphone through her underwear.
She alleged that he also removed her lower clothing and touched her on her private parts.
The court heard that the woman did not report any of the alleged incidents to the police until 2013, although she said she told her mother when she was 16.
Under cross-examination by QC Donald Findlay the woman was told: "Mr Maclennan denies anything inappropriate happened to you."
He then asked her why, if what she claimed was true, she had not told her parents or the police and she replied: "I was embarrassed and didn't want to think about it. I didn't know what to do."
Nursery allegations
The mother of the boy allegedly abused at the Inverness-shire nursery, told the court her son had made an "alarming" comment of a sexual nature about Mr Maclennan.
She said her son was very upset on 22 May, 2013 and said: "I was making dinner and he just came out with it while he was watching television. I went over towards him and asked him to tell me again."
The court heard that she and her husband rang social services who then contacted the police.
The court heard that, as a result of the boy's remarks, an investigation was launched.
Two other mothers, whose children attended the nursery, told of receiving letters telling them an inquiry was under way.
The mothers, both aged 34, told of speaking to their children after getting the letter.
The mother of a five-year-old girl said her daughter told her something that concerned her and led her to phone the police.
The other mother said her three-year-old son told her that Mr Mclennan was touching him.
The trial before judge John Morris QC continues.