Funding deal prevented NHS Highland cancelling surgery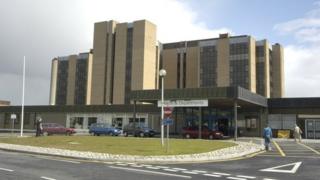 NHS Highland has told MSPs it could have been forced to cancel operations and cut services if the Scottish government had not given it £2.5m.
The health board secured the funding in a deal last year.
Its senior management met with the Scottish Parliament's public audit committee on Monday to update MSPs on NHS Highland's finances.
The bosses said the health board expects to break even by the end of the financial year.
During a meeting of the public audit committee in November, MSPs were highly critical of NHS Highland's senior management handling of its then £12m deficit.
It is now trying to tackle a projected £2m overspend.
'Looking to improve'
Following Monday's meeting in Inverness, committee convener Paul Martin said he hoped lessons had been learned at the health board.
He said services in the Highlands would have been at risk if it had not secured additional funding last year.
Mr Martin told BBC Alba: "The consequences would have been a loss of services across NHS Highland.
"That is an area of concern for the public locally and an area of concern for the audit committee.
"We have to ensure that lessons have been learned and there isn't a repeat of this situation."
The health board chairman Gary Coutts said last year was the first time in 15 years NHS Highland had to seek a funding deal with the government.
He said the health board had a good track record.
Mr Coutts added: "I get numerous letters every week from people telling us how good the health service is.
"There are always things we can improve on and we are always looking to improve and we will always do that."