Men's Shed movement reaches Skye and Lochalsh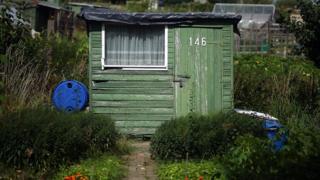 Work is under way to establish a Men's Shed organisation for the Skye and Lochalsh area.
The Men's Shed movement, which started in Australia, has about 200 groups in the UK. One set up in Westhill near Aberdeen was the first in Scotland.
"Shedders" meet at a designated place or workshop where they can share skills and work on community projects.
About 40 men have expressed an interest in setting up a "Shed" for the island and Lochalsh on the mainland.
Meetings on establishing the group have been held in Kyleakin and Portree.
'Be creative'
Last year, a group was set up in Fort William in Lochaber.
Stuart MacPherson, who is among those keen to see an organisation established for Skye and Lochalsh, said it would offer him the chance to be creative.
He said: "I don't think people have a chance to be creative in their lives today.
"A Shed would be a chance to do things for ourselves and be creative."
According to the UK Men's Shed Association, Age Concern Cheshire formed the UK's first Shed at Hartford in 2009. At about the same time an organisation was set up in Ireland.