Driver 'blackout' caused death of Glenfield cyclist Elaine Dunne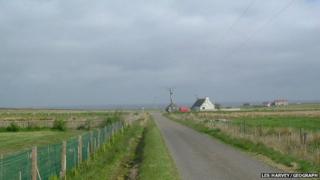 A driver in her 90s suffering a blackout was the "most likely" cause of a crash in Caithness that killed a cyclist from Leicestershire.
Elaine Dunne, 30, of Glenfield, died and her husband Christopher was injured when they were hit by a car allegedly on the wrong side of the road.
A sheriff has determined Alice Ross, 96, of Lybster, had a "blackout of some kind" before the accident.
The Dunnes were in Scotland to celebrate their wedding anniversary.
Sheriff Andrew Berry's written determination has been released following a fatal accident inquiry (FAI) held at Wick Sheriff Court.
He rejected a suggestion from the Crown that Mrs Ross should have sought medical advice as a precaution after a previous episode of ill health.
'Consciousness disturbance'
The sheriff said her medical notes had reported in 1955 and 1981 "dizziness" and "consciousness disturbance", but that otherwise there was nothing in the ensuing years up to the time of the crash in September 2011.
Sheriff Berry also ruled out a suggestion made at the FAI for blanket testing of older drivers, describing it as "unrealistic".
The Dunnes were on a week-long holiday to celebrate their first wedding anniversary.
They had been standing with their bikes when they were knocked over on the A99 Wick to John O'Groats road at Auckengill, near Keiss.
Ms Ross believed at first there was no-one else involved in the accident, the inquiry heard.
The FAI was told that she had not driven since the crash and had surrendered her driving licence.
A High Court case in Inverness against her was dropped in August last year because of the Crown's late assessment of medical reports lodged by her defence.