Midwifery services for Skye and Lochalsh to be suspended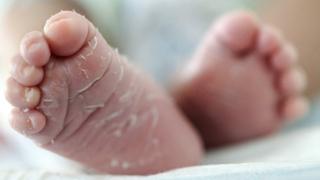 Out-of-hours midwifery services for Skye and Lochlash will be temporarily suspended from Monday because of staff shortages.
NHS Highland hopes the situation will improve after a month.
Women who planned to have their baby locally will have to go to Raigmore Hospital in Inverness for their birth if this occurs during out-of-hours.
Raigmore will liaise with on-call doctors and ambulance service in emergencies.
The suspension will apply to times outside normal working hours of 09:00-17:00, seven days a week.
Sarah McLeod, NHS Highland's lead midwife in the area, said: "The midwifery team for Skye and Lochalsh has shown tremendous dedication during what has been a difficult time, caused by staff shortages.
"However, we simply have to suspend the local birth option out-of-hours until things get back on an even keel.
"We hope everyone in the community understands the reasons for this and we thank them for their support in this challenging time."
It is the latest suspension of services that NHS Highland has been forced to make.
Surgical services at Caithness General Hospital in Wick have not been available at night or weekends since last month.
The health board said the staffing situation at the site had become "fragile" after one surgeon retired and another resigned.
NHS Highland said this left just one consultant general surgeon.
Raigmore Hospital in Inverness, about 100 miles away, provides an on-call surgeon at nights and weekends.
And earlier this month, Raigmore Hospital was put on "red alert" after a shortage of beds led to the cancellation of operations.
The health board said it had taken action to prevent the situation from escalating. The alert level was later downgraded.