Concerns at Skye and Lochalsh midwifery suspension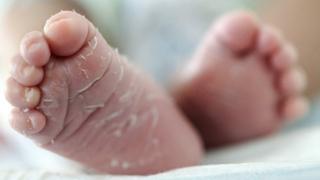 Concerns have been raised about a temporary suspension of out-of-hours midwifery services for Skye and Lochalsh.
NHS Highland hopes the situation, which has been caused by staff shortages, will improve after a month.
Skye councillor Hamish Fraser told BBC Radio Scotland it was "ludicrous" the service was having to be withdrawn.
He said expectant mothers faced "long and difficult" journeys to Raigmore Hospital in Inverness for births.
From Portree and Broadford, the main towns on Skye, journeys to Inverness take about two and half hours and two hours.
Mr Fraser said: "At this time of year it can be a dangerous journey. The roads can be bad and distressing for mothers."
'Tremendous dedication'
The suspension will apply to times outside normal working hours of 09:00-17:00, seven days a week from Monday.
Raigmore Hospital will liaise with on-call doctors and ambulance service in emergencies.
The Highland councillor added: "When a child decides it is going to be born it is not usually between nine and five.
"I would suggest that all births will be at Raigmore for the next month."
On Friday, Sarah McLeod, NHS Highland's lead midwife in the area, said: "The midwifery team for Skye and Lochalsh has shown tremendous dedication during what has been a difficult time, caused by staff shortages.
"However, we simply have to suspend the local birth option out-of-hours until things get back on an even keel.
"We hope everyone in the community understands the reasons for this and we thank them for their support in this challenging time."
Abdominal organs
It is the latest suspension of services that NHS Highland has been forced to make.
In September last year, NHS Highland suspended its endoscopy service at the Mackinnon Memorial Hospital in Broadford because of the costs.
The procedures are being handled at Belford Hospital in Fort William.
The move followed concerns about the Broadford hospital's ability to decontaminate the endoscopy equipment, which is used for specialist internal examination of abdominal organs.
Surgical services at Caithness General Hospital in Wick have not been available at night or weekends since last month.
The health board said the staffing situation at the site had become "fragile" after one surgeon retired and another resigned.
NHS Highland said this left just one consultant general surgeon.