Hial regional airports had 'busiest year ever' in 2014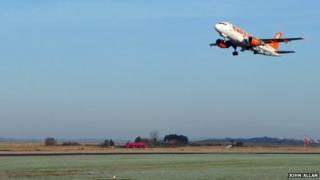 Scotland's regional airports enjoyed their busiest year ever in 2014, the sites' operator Highlands and Islands Airports Ltd (Hial) has said.
A record 1.4 million passengers passed through Hial's 11 airports, almost 52,000 more than in 2013.
Inverness had its busiest year since 2008 after handling 628,526 passengers and numbers at Sumburgh rose by 18.2% to 319,597 passengers.
However, there were falls in passenger numbers at Campbeltown and Dundee.
Hial said Islay, Stornoway and Tiree enjoyed "strong growth" during the year while Benbecula and Kirkwall experience "modest growth" in passengers.
Inglis Lyon, managing director of Hial, said: "We are delighted with performance of the group as a whole, particularly at Sumburgh and Barra, which have been our fastest growing airports.
"The success of these two airports underline the importance of aviation for business and tourism in our island communities."
He added: "After a sluggish start to the year, Inverness ended 2014 on a high, gaining an additional 19,000 passengers in the last quarter."