Highland Council says fire-hit Eastgate Hostel in Inverness is unsafe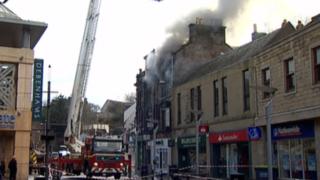 The owners of a backpackers' hostel destroyed by fire almost two years ago have been issued a dangerous building enforcement notice.
More than 50 people were evacuated from the Eastgate Hostel in Inverness city centre after the blaze broke out in April 2013.
Highland Council, which has issued the notice, said the building had not been repaired and was unsafe.
The local authority is putting up more security fencing around the site.
Emergency services were called to the four storey property just after 05:00 on 3 April 2013.
The 51 people who were evacuated, many of them still in their night clothes, were given shelter inside the nearby Eastgate Shopping Centre.
They were later taken to a reception centre set up by Highland Council and the British Red Cross.