Plan to remove all hedgehogs from the Uists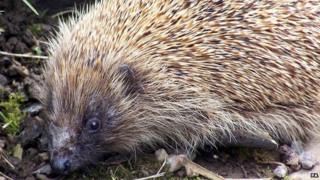 A plan to remove all hedgehogs from the Uists in the Western Isles over a 10-year period has been proposed by Scottish Natural Heritage (SNH).
The mammals are not native to the islands and eat the eggs of ground nesting birds such as snipe, lapwing and ringed plover.
Since 2002, about 1,600 hedgehogs have been removed from the Uists.
The new effort could start in 2017 and cost £5m in total. SNH hopes to make a successful bid for EU funding.
The removal work would be split into two five-year phases.
Hedgehogs were first introduced to the isles in 1974 when seven were released around Daliburgh in South Uist to eat slugs.
A decline in numbers of wading birds was detected in the mid 1980s.
By 1995 hedgehogs were common throughout South Uist and Benbecula, their numbers growing in part thanks to the lack of predators and not being run down on the isles' quiet roads.
The Uist Wader Project was launched in 2001.
First hedgehogs were culled, but this was soon stopped and the Uist Hedgehog Rescue (UHR) was launched and started receiving funding to trap and relocate the animals to the Scottish mainland.
Since 2002, UHR has moved more than 1,600 hedgehogs.
UHR transports the animals to a wildlife rescue centre in Ayrshire where they are monitored before being released into suitable sites.
Dealing with the animals has cost about £2.1m so far.