Fish farming ship runs aground north of Lochinver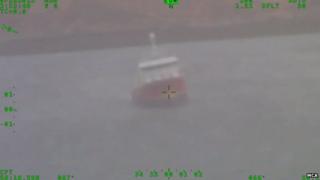 A ship used for carrying live farmed fish has got into difficulty in Badcall Bay north of Lochinver.
The 173ft (53m) Viktoria Lady, which has seven crew, ran aground on a rock at 10:50 but was later refloated.
Stornoway Coastguard helicopter and Lochinver lifeboat were called to the scene.
The Maritime and Coastguard Agency said there was no evidence of pollution at this stage. Divers will have to be brought in to check the ship's hull.
The incident comes just days after the cargo ship Lysblink Seaways ran aground near Ardnamurchan Point. It refloated on Thursday night.
The MCA said water had got into a space between the outer and inner hull of the Norwegian-registered Viktoria Lady. The ship's pumps have been dealing with the leak.
Lochinver lifeboat crew and Coastguard personnel remain on the scene monitoring the vessel.