Small hydro scheme in Morvern starts generating power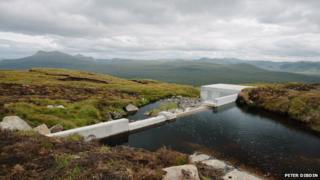 A new small-scale hydro scheme in the north west Highlands partly paid for by the local community has started generating electricity.
Morvern Community Development Company and Morvern Community Trust invested a total of £30,000 in the project.
The groups will receive some of the money raised from electricity sold.
Perth-based developer Green Highland Renewables had the scheme constructed on the Abhainn Shalachain river on land owned by Forestry Commission Scotland.
The 465kW scheme on the Morvern Peninsula was completed a month ahead of schedule.
Angus Robertson, a local community director on the project, said: "We believe strongly in community ownership and development of our own natural resources.
"We would have liked to be able to afford a larger share but are delighted to be a part of it."
He added: "We thank the development team and are looking forward to a nice wet future."