VisitScotland free ferry tickets campaign launched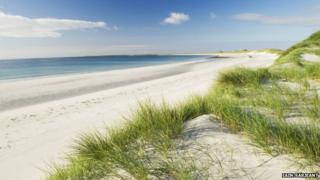 A tourism campaign offering thousands of free ferry tickets is being repeated this year.
Four thousand pairs of foot passenger tickets for a free return trip to one of 23 Scottish islands have been made available.
A draw will be held each week until 25 March in the competition involving VisitScotland, Caledonian MacBrayne and Serco NorthLink Ferries.
Last year, 63,000 people from the UK entered the draw.
Arran was the most popular destination with 9,470 requests.
In second place was Shetland with 8,989, followed by Lewis 7,048, Mull 6,710 and Orkney 6,204.
This year's Brilliant Island Moments draw was due to begin on Wednesday.
Mike Cantlay, chairman of VisitScotland, said 2014's competition had been a "huge success".
He added: "In Scotland we are very lucky to boast hundreds of islands, each with their own diverse landscape, rich wildlife, unique character and delicious food and drink.
"From rugged mountainous geography to Caribbean-like white sand beaches, there are so many reasons to visit our islands."