Lysblink Seaways to be towed to sheltered Scallastle Bay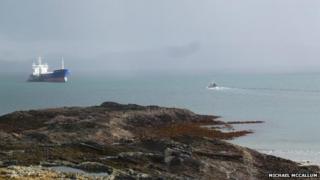 A cargo ship that ran aground last week will be moved to a more sheltered position because of forecasts of gale force winds.
The Lysblink Seaways, which was carrying paper from Belfast to Norway, got into difficulty near Ardnamurchan Point. It later refloated.
More than 150 tonnes of fuel oil has been removed from the ship.
A tug will take five hours to haul the vessel 17 miles (27km) from Mingary Bay to the more sheltered Scallastle Bay.
The Maritime and Coastguard Agency said the decision to move the Lysblink Seaways had "the full support" of the Scottish Environment Group and Marine Scotland.
Herakles, an emergency towing vessel, will monitor the cargo ship once it reaches Scallastle Bay.