'Clearer information needed' on broadband project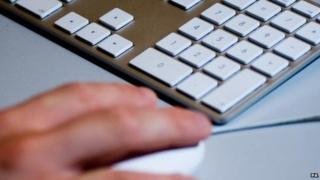 Clearer information is needed on the coverage and range of speeds a Scottish superfast broadband network will deliver, Audit Scotland has said.
The Scottish government wants the network to offer speeds of 40-80 megabits per second to 85-90% of premises by March 2016 and 95% in 2017.
But Audit Scotland said the contracts to create the network do not guarantee the speeds for all the premises.
The government said Scotland could be a world-leading digital nation by 2020.
The Scottish government and Highlands and Islands Enterprise (HIE) appointed BT, through two contracts, to develop the superfast broadband network.
Audit Scotland said BT had exceeded its contractual targets by 57,000 premises, but was about 14,000 premises short of where it expected to be at this stage against its original plans.
Based on the progress made to December 2014, the public spending watchdog has calculated that 85% of premises will have access to superfast broadband by March 2016.
'Very positive'
To build and maintain the network will cost £412m, which includes a £165m contribution from the public sector.
Audit Scotland said arrangements in place to manage the project were "currently effective, but complex".
It added that there was a risk that project teams may not fulfil their contract management and monitoring roles in busier periods as workloads increase.
The watchdog has recommended that the Scottish government and HIE keep staffing levels and workloads under review.
Caroline Gardner, Auditor General for Scotland, said: "Being able to access superfast broadband is increasingly important for homes and businesses.
"This investment by the public sector is intended to mainly benefit rural areas, where such access is currently either low or non-existent.
"Given the potential benefits, it's important that the Scottish government and HIE provide clear and regular updates on what coverage and speeds the broadband network will actually deliver, as the installation progresses."
The Scottish government said it was a "very positive" report from Audit Scotland.
A spokesman said it confirmed that it was on course to deliver the target of 85% of premises in Scotland having access to superfast broadband by March 2016 and 95% by the end of 2017.
He said: "Our ambition is for Scotland to be a world-leading digital nation by 2020 - a vision underpinned by future-proofed infrastructure that will support connectivity on any device, anywhere, at any time.
"Our Digital Scotland Superfast Broadband programme is a vital first step - extending fibre infrastructure into areas where the market would not otherwise go - and Audit Scotland's report makes clear it is being managed effectively and that roll out is currently ahead of contractual targets."
Public audit committee convener Paul Martin said the committee will now "explore whether the progress being made has delivered better coverage and faster speeds to rural Scotland, or if targets have been met by focusing on the easier-to-achieve parts of this ambitious infrastructure programme".
Conservative MSP Murdo Fraser said: "You shouldn't have to go to the city to get a decent internet connection.
"We would accelerate the plans set out by the Scottish government and ensure that when someone does get this connection, it's fast enough to make a noticeable difference to their lives."