Say fit? Reynolds' Mr Whiskers and other on-screen 'Scots'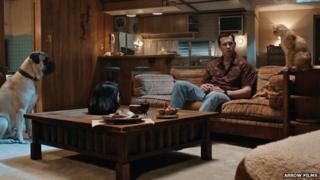 New film The Voices has a cat that talks with a Scottish accent. Voiced by the movie's lead, Canadian actor Ryan Reynolds, the ginger tom called Mr Whiskers is the latest movie character to be portrayed as Scots but played by a non-Scot.
Here are 10 more from TV and film:
William Wallace - Braveheart
Who: Mel Gibson
From: US-born Australian
Playing: Scottish folk hero William Wallace
Did you know?: Actor Leonardo DiCaprio would stand at the railings on the Titanic film set and shout "freedom" in the style of Mel Gibson in his movie Braveheart.
---
Scotty - Star Trek
Who: James Doohan/Simon Pegg
From: Canada/England
Playing: USS Enterprise's chief engineer Montgomery Scott, better known as Scotty
Did you know?: Linlithgow, Aberdeen, Edinburgh and Elgin have laid claim to being Scotty's birthplace. Pegg and Alice Eve, co-stars in the new Star Trek movies, use special phrases to slip into a Scottish accent.
---
Lord Clarence MacDonald - Indiana Jones and the Last Crusade
Who: Harrison Ford
From: USA
Playing: Indiana Jones playing a phoney Scottish lord while trying to rescue his dad from Nazis
Did you know?: Scotsman Sir Sean Connery plays Indy's dad, but that is hardly a surprise fact so stick with us on this one. Long before Disney's Frozen and its snow queen Elsa and her song Let It Go, Last Crusade had a character called Elsa who in a scene is asked to "Let it go". Film trivia gold.
---
Fairy Gary - Tinker Bell and the Lost Treasure
Who: Jeff Bennett
From: USA
Playing: Fairy Gary, a friend of Tinker Bell's who has a Scottish accent and wears a kilt
Did you know?: Bryan Cranston of Breaking Bad fame is to produce the musical Finding Neverland, a Broadway show about Kirriemuir-born author JM Barrie who created Tink Bell in his story Peter Pan
---
Fragglewump - Hellboy II: The Golden Army
Who: Brian Steele
From: USA
Playing: A Scottish troll known as a Fragglewump
Did you know?: Hellboy - a muscular red, horned demon - is summoned to Earth during World War II in a ritual ceremony performed on a fictional Scottish island
---
Shrek - Shrek
Who: Mike Myers
From: Canada
Playing: An ogre
Did you know?: Myers tried his own Canadian accent for Shrek before deciding a Scottish one best suited the character
---
Destro - GI Joe: The Rise of the Cobra
Who: Christopher Eccleston
From: England
Playing: Film's main villain
Did you know?: Destro's voice-activated missile system responds to Gaelic words
---
King Frederick - Grimm
Who: Dan Kremer
From: USA
Playing: Plays a villain with a Scots accent in the US fantasy TV series, which is also shown in the UK
Did you know?: Actress Bitsie Tulloch - who plays a veterinarian and the love interest to the show's lead character, detective Nick Burkhardt - has ancestral links to Renfrew and Orkney on her father's side of her family
---
Shannon Blake - Scooby-Doo and the Loch Ness Monster
Who: Grey Griffin
From: USA
Playing: Daphne's Scottish cousin who lives on the shores of Loch Ness
Did you know?: Bellshill-born singer Sheena Easton provides the voice for the movie's Prof Fiona Pembrooke
---
Connor Macleod - Highlander
Who: Christopher Lambert
From: US-born French actor
Playing: An immortal warrior reborn in 1518 in Glenfinnan in the Highlands
Did you know?: Tom Cruise has been linked with the role Sean Connery played in Highlander in a planned remake
---
And what about Scots doing accents other than Scottish?
American: Dougray Scott in Desperate Housewives, Kevin McKidd in Grey's Anatomy, Alan Cumming in The Good Wife and David Tennant in the US remake of Broadchurch.
Irish: Kelly Macdonald in Boardwalk Empire.
Russian: Robbie Coltrane in Bond films GoldenEye and The World Is Not Enough and Alan Cumming in GoldenEye.
The Voices is to be released in UK cinemas later this month.