Firth's rolling stones inspire John O'Groats arts project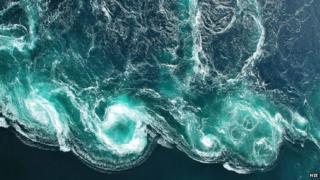 Large rocks that roll around the seabed of a Scottish firth are the inspiration for a new £118,000 arts project.
The boulders, which are believed to be 25cm to up to 100cm in diameter, are moved by fierce tides in the Pentland Firth.
Dundee-based artists Matthew Dalziel and Louise Scullion have been commissioned to create an artwork called Nomadic Boulders.
It will be put on permanent display in John O'Groats.
Local stories tell of large boulders on the seabed of the Pentland Firth rolling backwards and forwards with the tides.
The artists confirmed the truth of these stories with various experts.
They included Prof Stephen Salter of the University of Edinburgh, who was involved in some of the early seabed surveys of the area, and the European Marine Energy Centre and the Fisheries Research Lab in Aberdeen.
'Unique emblem'
Ms Scullion said: "We are really excited by this project.
"There are so many interesting stories surrounding John O'Groats concerning its unusual biodiversity, its local customs and remarkable geology.
"Often these get overlooked by visitors to the area, but when we heard about the rolling boulders of the Pentland Firth we thought them a unique emblem of just how powerful this mighty body of water is."
A public meeting will be held in John O'Groats Village Hall on 13 March at 19:00 when the artists will introduce and illustrate their idea.
The project design team will work with local people, organisations and landowners until a final unveiling event at the end of Autumn 2015.