Cargo ship Lysblink Seaways reaches harbour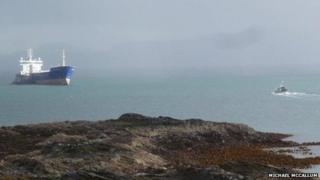 A cargo ship that ran aground in the north west Highlands has been towed to Clydeport's Great Harbour in Greenock ahead of repairs at a dry dock.
The Lysblink Seaways, which was carrying paper from Belfast to Norway, ran aground near Ardnamurchan Point last month.
It was later refloated and anchored in Scallastle Bay in the Sound of Mull.
The 394ft-long (120m) vessel was towed about 172 miles (277km) down the west coast.
The Lysblink Seaways got into difficulty at Kilchoan at about 01:50 on 18 February.